For my FIRST Meme of the day: FEEL GOOD FRIDAY!!!

5 Things That Are Making Me Feel Good This Friday!
1. My husband is finally able to have SATURDAYS AND SUNDAYS off! (Only for 6 weeks, and yeah, he has to go to school to take a test tomorrow instead of ACTUALLY having a day off...but still.)
2. I LOVE my kids- but I ALSO love PRESCHOOL! I get 3 whole hours to MYSELF while Lilly and Mahone are at preschool, and Scarlet is napping. It's blissful.
(Anyone in the Salt Lake City/West or South Jordan ish areas that need a STELLAR and affordable preschool, contact me.)
3. For the last 2 weeks, for breakfast, my kids have had bananas, apples, blueberries, strawberries, or raspberries with a little granola thrown in, covered with skim milk and a spoonful of sugar. THEY LOVE IT and I feel like I'm feeding them something healthier than sugary cereal, despite the spoonful of sugar I add...
4.We finally have ALL of Brandon's W-2s from 2009 (We went through a LOT of unemployment, and he had a LOT of jobs...I think 8 in total.)
5. My little man has suddenly become very affectionate (not like he wasn't before or anything, but...) I have gotten more hugs and 'I love you's' in the last two days than ever before. LOVE HIM. He's so cuddly. He kind of took a turn for the worst when he turned 3 and has been the cutest pain in my butt I've ever seen. Maybe he's growing out of it, and instead of being the cutest pain in my butt, he can just go back to being the cutest KID I've ever seen.
****************************************************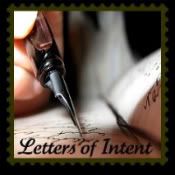 (You know the drill! For more letters of intent, or to list your own, click the button above!)

Dear Neighbors on the South Side of Me,
I have to start by stating that I have always liked you. You are quite nice, when we dutifully wave each time we see each other. Your two little girls are beautiful. You seem like nice people, and, for the most part, the 'For Sale' sign in your yard dampens my heart, because in my near 2 years of living here, I have not taken the time to get to know you. (Never mind that you speak very little English, and i don't speak a lick of Spanish.)
However, I must say that i will not miss the ruckus parties that blast until 3 am. several nights a week throughout the summers. I will not miss the constant beer cans, cigarette butts and other debris that clutter our yard, not so subtly- both front and back, which means that someone is throwing them over the fence to where my 4, 3 and 2 year old play. Sometimes, they're half full. NOT COOL.
I know you guys have a lot of different people over, and that is really cool with me. I have a lot of people over. However, can you please not invite that one guy again? I mean, the one who, when Lilly waved hello to him yesterday, talked nicely to her, and waved. Doesn't sound so bad? Well, I didn't think so either. Until he told me he wanted to kidnap my daughter.


At least he had the decency to look embarrassed about the comment. I'll give him the benefit of the doubt and assume that he didn't really mean to say something quite so creepy. She's cute, and friendly and talkative. It's true...but that coming from an old guy I don't know? Yeah, not my idea of comfort. Just know that if she ever turns up missing, I know who I'm looking at first.
I AM hoping your house sells soon, not so I can 'get rid of you' and not only because that's the best thing that could happen for you- all homeowners who are moving want their house to sell quickly, but because I am eager to see how quickly MY house will sell when WE decide to move. Our houses are nearly identical. It will be a good gage.
It was nice (not) knowing you.

Sincerely,

Keep An Eye On That Old Guy.
P.S. Here is the whole stack of "MOVE YOUR VEHICLE" letters I have gotten from the Post Office. They belong to you.
**********************************************************
My lovely friend at the above button has declared that today's book should be our favorite book that promotes imagination!
My favorite book that promotes imagination is a book about a Chameleon. It is called "A Color Of Their Own."
(This picture I got from Google Images- My daughter Scarlet is sleeping soundly with her arms wrapped around it, so I couldn't take my own pictures.)
I LOVE this book because it's simple, and short and to the point. It's about a chameleon who wants to just be one color- so he sits on a leaf to stay green. But the leaf changes all different colors in the fall, and he ends up on the ground in the brown dirt.
Our friend the Chameleon finds another chameleon, and he is older and wiser, and he says that though they will never have a color of their own, they can stay together, and they will always be the same as each other.
I like to ask my kids what color they would like to be. I get all kinds of answers: Rainbow, blue, yellow, pink. It's fun.
Once, Brandon had gone to answer Lilly crying in the night, and when he came back, he asked if I had read her this book for bedtime. I said "Yeah, why?" and he said "Because she says she wants to be a different color."


The second book I'd like to feature (because I love it, but ALSO because it was in a place where I could get my hands on it to photograph it.) is Imogene's Antlers by David Small.



Randomly, one night, Imogene sprouts antlers on her head. And it's all about the way she handles it. (Better than her mother, who faints each time she sees her.)