Before I get right into things, I have a few reminders:


1. PLEASE do me a favor and check out
http://www.spoonsforscarlet.etsy.com/
and read my daughter's story, then peruse the many beautiful, hand decorated spoon ornaments and help me donate THOUSANDS to Primary Children's Hospital!
2. Notice the poll on the right sidebar and VOTE for next month's book!


3. Speaking of the book club, we're reading The Witch Of Blackbird Pond this month, and I promise you'll love it! It's not too late to join in!


4. Please vote for me on Top Mommy Blogs by clicking on the button on the left sidebar- that's all you have to do! One click! Thanks!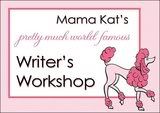 So, as an avid writer with pretty clear cut memories who thinks in complete sentences, when I look at Mama Kat's list of prompts each Wednesday, I usually know exactly what I want to write about. This time, though, it was harder to decide. I'm going to have to make comments about more than one today.


1. If you had to relive a day in your life, what day would it be?


Assuming this day would be a day that I could change, I'd go back to September 21, 2009 and move the television off of the dresser, as I had intended to that very morning. Then my little Scarlet would never have been in that situation.
As far as reliving a certain DAY without being able to change it? Well, that's really hard, because I don't really remember a specific day that was the best day of my life. I remember some really spectacular summers, some excellent trips and some stellar school years. I remember classes that I was consistently excited to go to throughout the entire school year. I remember some wonderful intimate moments that happened at the end of some really rotten days, and days that started out the best ever, but ended in tears. I just don't think that I can narrow my life down that way.


Here's a question though- does it make me a bad wife that my wedding day was not the greatest day of my life? Honestly, I don't remember much of it. It was a haze. I was stressed out, I was nervous. I didn't really like my dress, I really hated my botched hair cut, my new husband's old car ran out of gas and wanted me to help him push it 5 blocks to the gas station- IN MY WEDDING DRESS. My photographer was kind of a flop, and they were short on corsages for my party. My reception was positively lovely, and that made up for a lot. But really, the whole day was just a nightmare.


2. When do you first imagine yourself wishing you were older or bigger?


Well, honestly, I thoroughly enjoyed my youth. I was born in July and that meant that when I went to school, I was the youngest in my class for most cases. I was also the smallest. Really, I'm pretty much STILL the smallest, standing a whole 5 feet 3 inches tall (beats the crap out of my mom who's 4'11") and I weigh about 112. Still, I reveled in my youth, and was proud of being petite. I actually cried when i turned 25 and I've cried every year since. I'm 27 now. I feel like an old fogey. Really, though, I was boy crazy, which brings to mind the ever classic song "Wouldn't it be Nice" by the Beach Boys, I never really wanted time to just 'hurry up'. I DO, however, remember two incidents where I wished I were older or bigger.


The first time, I was in second grade, and i had brought my little friend, Patty, home for a play date. We were playing dress up, and she already had budding breasts. I was only 7. She was 9 (as I was on the younger end of the second grade spectrum, she was on the older end.) I stuffed toilet paper into my dress and made myself some 'girls'. Little did i know the irritation they'd be when I suddenly grew them 7 years later.


The second time, I was lying in bed at 9:00 pm- very abnormal for me- on prom night when I was a sophomore in High School. Being young, I was only 15 until late summer that year, and on top of that, being Mormon, I was unable to date until I turned 16 years old, so even if I had been asked (which I wasn't) I couldn't have gone. I am a still a little bitter about that whole incident.
I was going to write about my routine as well, but it's late, my husband's wearing a kilt, and we're watching Far and Away (one of our many traditional St. Patrick's Day movies.) So, I have some makin' out to do.
Night, folks!